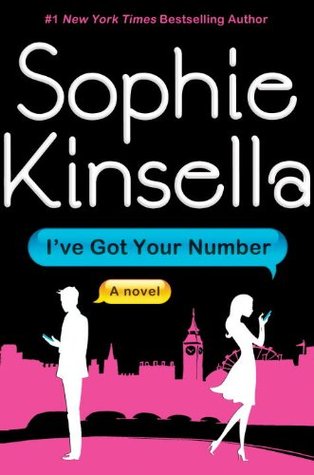 Author: Sophie Kinsella
Published: Dial Press Trade
Pages: 433
Genre: Contemporary, Romance, Comedy
Souce: Purchased from Periplus 
Format: Paperback
Find it on
Periplus (Indonesia only)




Summary from Goodreads
"

I've lost it. 😦 The only thing in the world I wasn't supposed to lose. My engagement ring. It's been in Magnus's family for three generations. And now the very same day his parents are coming, I've lost it. The very same day! Do not hyperventilate, Poppy. Stay positive 🙂 !!

 

Poppy Wyatt has never felt luckier. She is about to marry her ideal man, Magnus Tavish, but in one afternoon her "happily ever after" begins to fall apart. Not only has she lost her engagement ring in a hotel fire drill but in the panic that follows, her phone is stolen. As she paces shakily around the lobby, she spots an abandoned phone in a trash can. Finders keepers! Now she can leave a number for the hotel to contact her when they find her ring. Perfect!

 

Well, perfect except that the phone's owner, businessman Sam Roxton, doesn't agree. He wants his phone back and doesn't appreciate Poppy reading his messages and wading into his personal life.

 

What ensues is a hilarious and unpredictable turn of events as Poppy and Sam increasingly upend each other's lives through emails and text messages. As Poppy juggles wedding preparations, mysterious phone calls, and hiding her left hand from Magnus and his parents . . . she soon realizes that she is in for the biggest surprise of her life."
Rating: 5/5 


OH. MY. GOD


This book has driving me crazy. I LOVED IT!


You know what? Sophie Kinsella is my favorite author all the time because she is a hilarious and engaging  and brilliant author! All of her books are brilliant and very funny. She know how to make the reader laugh out loud while reading her book.


I've Got Your Number is one of my favorite besides Confession of a Shopaholic books. I love every character in this novel. Poppy Wyatt, the main character, she is clumsy but hilarious. She lost her engagement ring and her phone in the same day. Then she found a phone in a bin. So she take out the phone and possess it as her own. And her story is begin, that phone led her to an elusive bussinessman Sam Roxton, because turned out she takes his office phone.
Second, Sam Roxton, the male lead in the book, like I said he is a a bussinessman who doesn't have time to reply messages on his phone. If he reply? He only replies very short message like he didn't care at all. That's why he has PA to handle this, but his PA has resigned suddenly. Poppy reads all of his messages and replies them all with "xxx". Haha. She did that under Sam's name ( I even laughing while writing this).
My favorite scene?
I think other reviewers will agree with me. My favorite scene when Poppy plays scrabble with her fiancee's family, Magnus aka Dr. Magnus Tavish. His family is very intellect and educated, he and his father are professor in university. All of his family put oh-so-f*cking-difficult words on scrabble, except Poppy who only knows "Pig". Hahaha. Coincidentally, Sam texts her, then Poppy asks him to help her and finds difficult word. I don't remember the word but because of that word, because of Sam helped her to cheat, her fiancee family impress with her. They didn't know if Poppy is actually intellect too and she won the game. Hahaha.
This book made me ship Poppy and Sam. They are perfect together. Oh I love them both.
You should read it, guys. I highly recommend this. You won't regret it!